The Institute is affiliated to Savitribai Phule Pune University and follows the academic curriculum prescribed by it. The Institute also offers the facility of obtaining an additional specialization after the successful completion of the regular MBA program, as per the norms of the University. The Institute also offers enrichment programs – Competency Development Program/Communicative English sessions to promote the overall growth and development of students. A Certificate course in Advanced Excel, Certified Financial Accounting, Goods & Service Tax (GST), Digital Marketing, Business Analytics, Entrepreneurship etc. are also offered to students for skills enhancement. The Institute follows a Choice Based Credit System (CBCS) and Outcome Based Education (OBE) pattern as prescribed by the University.
DYPIMS Program Offerings
Objective:
The MBA program prepares a student for a domestic and global career in diverse sectors of the industry. The MBA program facilitates learning, in theory and practice, of different functional areas of management and equips the students with an integrated approach to various functions of management. However, the demand for managerial skills is not limited to the industry. Managerial talent is much sought by the Government Sector, NGOs, and Non-corporate sector as well. Institutes, Faculty and students need to move away from the excessive focus on industry and look at needs and demands of broader sections of the society. Likewise entrepreneurial perspective of job and wealth creation with a social context also needs to be integrated into various aspects of the program.
MBA Program Focus:
Program Educational Objectives (PEOs):
PEO1: Graduates of the MBA program will successfully integrate core, cross-functional and inter-disciplinary aspects of management theories, models and frameworks with the real-world practices and the sector specific nuances to provide solutions to real world business, policy and social issues in a dynamic and complex world.
PEO2: Graduates of the MBA program will possess excellent communication skills, excel in cross-functional, multi-disciplinary, multi-cultural teams, and have an appreciation for local, domestic and global contexts so as to manage continuity, change, risk, ambiguity and complexity.
PEO3: Graduates of the MBA program will be appreciative of the significance of Indian ethos and values in managerial decision making and exhibit value centered leadership.
PEO4: Graduates of the MBA program will be ready to engage in successful career pursuits covering a broad spectrum of areas in corporate, non-profit organizations, public policy, entrepreneurial ventures and engage in life-long learning.
PEO5: Graduates of the MBA program will be recognized in their chosen fields for their managerial competence, creativity & innovation, integrity & sensitivity to local and global issues of social relevance and earn the trust & respect of others as inspiring, effective and ethical leaders, managers, entrepreneurs, intrapreneurs and change agents.
Programme Outcomes (POs): At the end of the MBA programme the learner will possess the
Generic and Domain Knowledge - Ability to articulate, illustrate, analyze, synthesize and apply the knowledge of principles and frameworks of management and allied domains to the solutions of real-world complex business issues
Problem Solving & Innovation - Ability to Identify, formulate and provide innovative solution frameworks to real world complex business and social problems by systematically applying modern quantitative and qualitative problem solving tools and techniques.
Critical Thinking - Ability to conduct investigation of multidimensional business problems using research based knowledge and research methods to arrive at data driven decisions
Effective Communication - Ability to effectively communicate in cross-cultural settings, in technology mediated environments, especially in the business context and with society at large
Leadership and Team-Work- Ability to collaborate in an organizational context and across organizational boundaries and lead themselves and others in the achievement of organizational goals and optimize outcomes for all stakeholders.
Global Orientation and Cross-Cultural Appreciation: Ability to approach any relevant business issues from a global perspective and exhibit an appreciation of Cross-Cultural aspects of business and management.
Entrepreneurship - Ability to identify entrepreneurial opportunities and leverage managerial & leadership skills for founding, leading & managing startups as well as professionalizing and growing family businesses.
Environment and Sustainability - Ability to demonstrate knowledge of and need for sustainable development and assess the impact of managerial decisions and business priorities on the societal, economic and environmental aspects.
Social Responsiveness and Ethics - Ability to exhibit a broad appreciation of the ethical and value underpinnings of managerial choices in a political, cross-cultural, globalized, digitized, socio-economic environment and distinguish between ethical and unethical behaviors & act with integrity.
Lifelong Learning - Ability to operate independently in new environment, acquire new knowledge and skills and assimilate them into the internalized knowledge and skills.
Program Specific Outcomes (PSOs): It is expected that Institutes define the PSOs for each specialization/ major-minor combination. PSOs shall also vary based upon the customized combination of Generic Core, Generic Elective, Subject Core, Subject Elective, Foundation, Enrichment & Alternative Study Credit Courses that they offer.
Graduate Attributes (GAs): At the end of the MBA program the learner shall exhibit:
GA1: Managerial competence
GA2: Proficiency in Communication, Collaboration, Teamwork and Leadership
GA3: Competence in Creativity & Innovation
GA4: Research Aptitude, Scholarship & Enquiry
GA5: Global Orientation
GA6: Proficiency in ICT & Digital Literacy
GA7: Entrepreneurship & Intrapreneurship Orientation
GA8: Cross-functional & Inter-disciplinary Orientation
GA9: Results Orientation
GA10: Professionalism, Ethical, Values Oriented & Socially Responsible behavior
GA11: Life-Long Learning Orientation
MBA Program Structure: The Basic Program Structure shall be as depicted below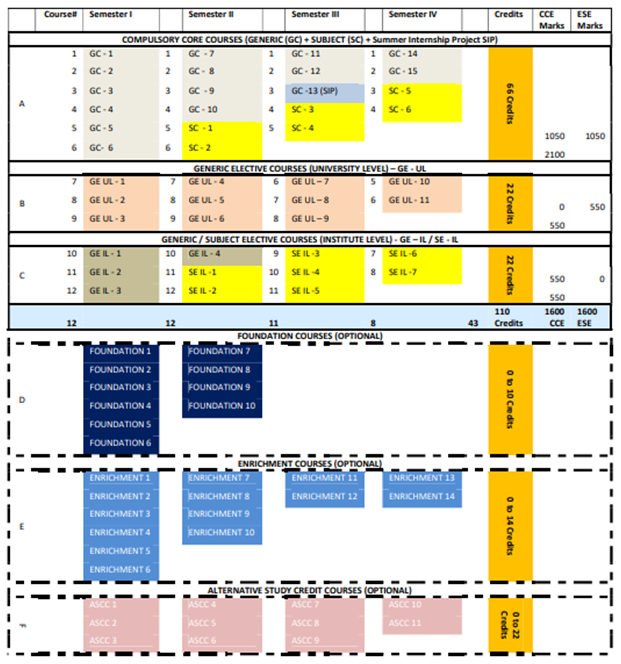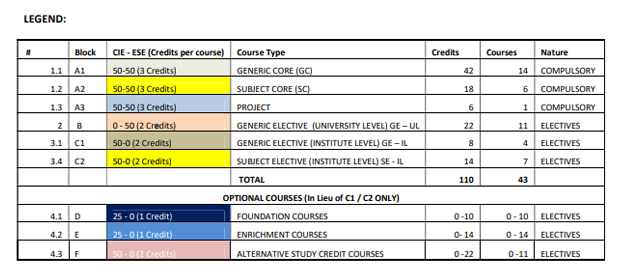 Click here to download SPPU Syllabus
About Savitribai Phule Pune University (SSPU)
Savitribai Phule Pune University, one of the premier universities in India, is positioned in the North-western part of Pune city. It occupies an area of about 411 acres. It was established on 10th February 1949 under the Poona University Act. The university houses 46 academic departments. It is popularly known as the Oxford of the East. It has about 307 recognized research institutes and 612 affiliated colleges offering graduate and under-graduate courses.
The university attracts many foreign students due to its excellent facilities. It offers good accommodation facility. There is a provision of hostel for the students. There is a well-stocked library containing plenty of books regarding various subjects. The university offers different scholarships to the students. The university conducts seminars and conferences for the students.
| | |
| --- | --- |
| Date of Establishment: | 10th February, 1949. |
| Location | Ganeshkhind Road, Pune, Maharashtra, India |
| Website address | http://www.unipune.ac.in/ |
| Total area of the campus | 411 Acres |
| Duration | 2 years (Full Time) |
| First Vice-Chancellor | Dr. M. R. Jayakar. |
| Chancellor | Shri ChennamaneniVidyasagar Rao |
| Vice -Chancellor | Dr Nitin R. Karmalkar |
| Registrar | Dr Prafulla A Pawar |
| Number of Academic Departments | 46 |
| Jurisdiction | Ahmednagar, Nasik, Pune. |
| Number of Colleges affiliated | 612 |
| Recognized Institutes | 307 |
| Teachers in the University Departments | 293 |
| Faculties | 13 |
| Books & Journals in the University of Pune Jayakar Library | 4,22000 approx. (Includes books, periodicals and other material) |
SPPU History
"The University stands for humanism and tolerance, for reason, for adventure of ideas and for the search of truth. It stands for the forward march of the human race towards even higher objectives. If the universities discharge their duties adequately then it is well with the nation and the people."
-Pt. Jawaharlal Nehru
First Prime Minister of India
These words of Jawaharlal Nehru embody in them the guiding principle of Savitribai Phule Pune University. Established in 1948, the University has since become one of the leading centers for research and teaching in the country. The 400 acre campus is located in the North Western part of Pune. The placid environs and state of the art facilities provide its numerous students with an ideal atmosphere to pursue research in various areas of Science, Arts, Commerce and Languages. The University houses 40 departments which provide a wide array of academic programs. Though a young centre, the University has made a significant impact in various areas of research and teaching, and continues to strive for excellence.
The Savitribai Phule Pune University (formerly known as University of Poona) was established under the Poona University Act, passed by the Bombay Legislature on 10th February, 1948. In the same year, Dr. M. R. Jayakar assumed office as the first vice chancellor of the University. Shri B. G. Kher, Chief Minister and Education Minister, Govt. of Bombay, took a keen interest in setting apart a beautiful campus for the University. As a result of his efforts, a campus extending over 411 acres was allocated to the University in early 1950.
Initially the University had a jurisdiction extending over 12 districts of Western Maharashtra. However, with the establishment of the Shivaji University, Kolhapur, in 1964, the jurisdiction of the University was restricted to 5 districts, namely Pune, Ahmednagar, Nasik, Dhule and Jalgaon. Out of these, two districts - Dhule and Jalgaon are attached to the North Maharashtra University established in August 1990.
During the year 1949, there were only 18 colleges affiliated to the University, with an enrolment of over 8000 students. Thereafter, the number of colleges increased, and in 1994-95, the University had 41 post-graduate departments, 209 affiliated colleges and 118 recognized research institutions, with an enrolment of 1,70,000 students for both the under-graduate and post-graduate courses in different faculties.
70 research institutions have been recognized by the University for Research. These include institutions of national importance like the National Chemical Laboratory (NCL), MACS, CWPRS, NIV, Gokhale Institute of Politics and Economics, Deccan College among others. Since its inception, the progress of the Savitribai Phule Pune University has been inextricably linked with the efforts of an illustrious list of Vice Chancellor.
SPPU MISSION
"The Mission of Savitribai Phule Pune University is to be a global, socially conscious Center of Excellence in the conservation, creation, Advancement and dissemination of knowledge, equipped to take up challenges of the enormous change taking place all around and committed to empower its faculty and students to contribute meaningfully to economic, technological and social development and progress."
In accordance With this Mission, Savitribai Phule Pune University aims at
Becoming a vibrant Knowledge Center and a Center of Excellence in teaching, research and extension activities.
Bringing about conservation, creation, advancement and dissemination of knowledge.
Creating technologically equipped thought and action leaders in a wide range of spheres by providing value based and high quality education, generating cutting-edge research and innovations, and enabling empowerment through social and regional inclusion.
Increasing global linkages by attracting international students and establishing collaborative Programmes with educational institutions of repute
Admission to the Institute is as per the guidelines of AICTE and Directorate of Technical Education (DTE), Maharashtra through MBA-MH-CET/CAT/CMAT exams.
Our DTE Institute Code is MB6133. Choice Code of the Institute is 613310110. This information is required at the time of Centralized Admission Procedure (CAP) round(s).
Candidates can also get admission against Institute level and against Vacancy seats through MBA-MH-CET/CAT/CMAT entrance test.
Process for MBA admission is as under:
Online registration of application and uploading of required documents
Documents verification and confirmation of Application Form
Display of Provisional Merit list
Grievances submission if any
Display Final Merit list
Option form filling
CAP Round 1 Allotment and Reporting
CAP Round 2 Allotment and Reporting
Report to Institute
Please note that online form submission and document verification at DTE facilitation / e-SC center is mandatory for admission through CAP rounds as well as for direct admission at Institute level and against vacancy seats.
Eligibility
Passed with minimum of 50% marks in aggregate or equivalent CGPA ( 45% in case of candidates of backward class categories and Persons With Disability belonging to Maharashtra State only) in any Bachelor's degree awarded by any of the Universities incorporated by an act of the central or state legislature in India or other educational institutions established by an act of Parliament or declared to be deemed as a University under Section 3 of the UGC Act, 1956 of minimum three years duration in any discipline recognized by the Association of Indian Universities, or possess an equivalent qualification recognized by the Ministry of HRD, Government of India. OR Appeared for the final year examination of any Bachelor's degree to be awarded by any of the Universities incorporated by an act of the central or state legislature in India or other educational institutions established by an act of Parliament or declared to be deemed as a University under Section 3 of the UGC Act, 1956 of minimum three years duration in any discipline recognized by the Association of Indian Universities, or an equivalent qualification recognized by the Ministry of HRD, Government of India.
Note:
Candidates who have appeared for MAH-MBA/MMS-CET/CAT(conducted by IIMs)/CMAT(Conducted by AICTE) are considered to be eligible for admission against the All India Seats subject to the fulfillment of eligibility criteria.
Information to Quick Links
*** All types of fee can be accepted through DIGITAL mode of payment.
For the MBA 1st year students of the Academic Year 2022-2023
For the 2nd year students of the Academic Year 2022-2023